The Top Electrician in Manhattan, NY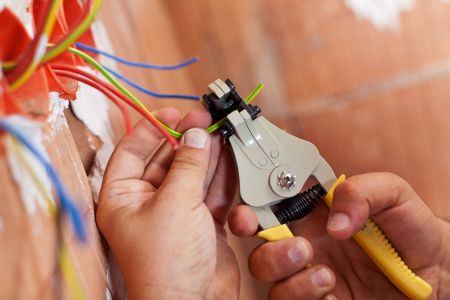 Ask locals in Manhattan which electrician they trust to provide them with services and it won't take long before you hear the name, Crossland Management & Electric. Our dedication to our customers shows in everything we do and the trust our clients have put in us is truly humbling.
This spurs us on to reach new heights in our skill level and service capabilities. We work hard, are dedicated, and are committed to providing top quality workmanship and excellent customer service.
Crossland Management & Electric offers you a full line of services whether you own a home, commercial business, or industrial facility in Manhattan. We also provide multi-family residential electrical repairs and maintenance work throughout Manhattan.
If you need a Manhattan electrician to assist you today, call us to schedule a free estimate. We are here to provide you with only top-quality workmanship, customer service, and products.
Quality Workmanship You Can Trust
Fully Licensed & Insured
Competitive Pricing
Complete Residential, Commercial, Industrial
Residential Electrical & Repairs
When you look for a Manhattan electrician, you want one that has a wide skill-set. You don't want someone who cannot meet all your needs or you might as well just go to someone who can. Crossland Management & Electric is here to provide your every electrical service need.
Our highly skilled Manhattan electricians can help you with everything from home generators and surge protection to electrical repairs, safety inspections, lighting, wiring, and panel upgrades.
24/7 Electric Repairs
Fast & Friendly Service
Professional & Ethical
Commercial Electrical & Repairs
Are you looking for excellent, professional, friendly service for the electrical system in your Manhattan building? Look no further than Crossland management & Electric. We are here to provide you with a full line of services you can depend on for years to come.
We do everything you need us to do when it's involved with your wiring or electrical components. This may include helping you to purchase and install a backup commercial generator, replacing an outlet, or setting up your remodeling project with the right electrical design and installation. We're also here for your electrical inspections, repairs, and code compliance corrections.
New commercial construction
Commercial remodels & additions
Energy saving lighting
Uninterrupted power supply installation
Transient voltage surge suppressors
Electrical service upgrades
Exterior security lighting
Generator installation & service
Low voltage cable & wiring
Low voltage intercom wiring
Restaurant maintenance
Apartment maintenance
Industrial Electrical & Repairs
Industrial electrical work can be quite complex at times, especially when designing and installing a new electrical system for a warehouse or another industrial building.
It's not easy to put your trust in a new industrial electrical contractor because your whole building, and therefore your business, depends on a safe and powerful yet efficient electrical system.
With Crossland management & Electric, you can always depend on our industrial electrical contractors to be well trained, highly skilled, and professional.
We love helping our clients to improve the energy efficiency of their industrial facilities or helping them to improve the bottom line with our efficient and reliable quality workmanship. We would be happy to find out what we can do for you today.
3 Electrical Repairs For Your Long Island Home You Don't Want To Put Off
It's easy to put things off when our lives are so busy but home safety is an important concern for everyone. Whether you have an older Long Island home or newer, there are certain electrical repairs that just can't wait even though they may seem […]
How Your Commercial Electrical Contractor Can Help Your Queens Restaurant Business
Owning a restaurant in Queens means everything falls on you including hiring a commercial electrical contractor to care for the electrical system of your building. Let's face it, you've little time to think much less breathe when running a […]