Your Local Electrical Contractor in East Elmhurst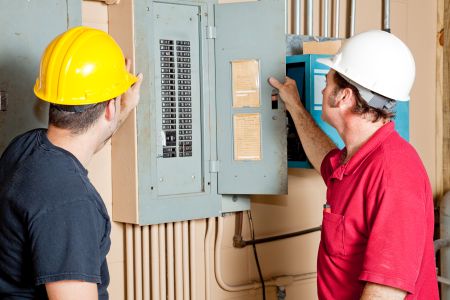 If you're looking for an East Elmhurst electrical contractor that is dedicated to customer satisfaction and superb service, speak to an experienced electrician at Crossland Management & Electric and discuss our various services.
Instead of getting frustrated by unexpected electrical complications, give the skilled team at Crossland Management & Electric a call. Our trusted electrical service company has been serving the East Elmhurst area since 2011, and we continue to please residential and commercial clients with our displays of professionalism, high-quality workmanship, speed, and consistency. In addition to serving homeowners, we provide electrical services to municipalities, industrial businesses, retail stores, and restaurants.
Security Lighting for Your East Elmhurst Business
By hiring a licensed electrician to install exterior lighting features around your business building, you can improve the safety and security of your property, employees, and customers.
Consider the following types of security lighting if you decide to increase the safety and security of your East Elmhurst commercial property:
Timed Security Lighting – Provides time control and energy efficiency
Soffit Lights – Pair well with porch lights and are often placed underneath roofs, ceilings, eaves, arches, and beams
Motion-Activated Flood Lights – Preferred by business owners who value high-level security and low energy costs
Solar Lights – Offer flexibility and cost savings
Electrical Inspections Performed by Skilled Electricians
If you haven't hired an electrical contractor to perform an electrical inspection of your East Elmhurst home in a while, now is the time to contact Crossland Management & Electric to schedule this professional service. Electrical inspections are essential to the safety of households because hidden damage can escalate into electrical hazards quickly. When you schedule an electrical inspection with our skilled professionals, your electrician will test smoke alarms, look for exposed wires, recommend repairs and replacements, and test lights and outlets.
Important Reasons Why You Need to Get a Panel Upgrade
Your electric panel is the heart of your home's electrical setup, so you need to ensure you always have a panel that can meet your needs. Over time, however, your panel may fail to meet those needs as your needs increase while it, of course, remains unable to increase along with them. […]
The Importance Of Electrical Safety Inspections
Hiring an electrician to check out your electrical wiring may seem like a hassle at first, but scheduling electrical safety inspections is extremely important to the well-being of your home and family. […]