Your Expert Electricians in Hicksville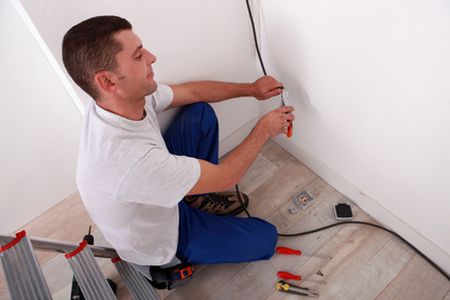 Maintaining a dependable electrical setup is vital for keeping your Hicksville home as safe as can be. To keep your home's electrical setup in that kind of condition, you need to leave its upkeep in the hands of the dependable pros at Crossland Management & Electric.
We offer quality results in a timely manner for all your electric needs. Whether you're looking to get an inspection, repair, upgrade, or similar service for your Hicksville home or business, you can depend on our expert electricians to provide the results you need when you need them.
Dependable Electrical Repairs in Hicksville
Your electrical setup will be subjected to constant use. That use combined with general aging and the occasional damage can leave you with electrical components that are not only undependable but also unsafe to use.
If your Hicksville home's electrical setup is suffering from any sort of wear or damage, you need to give us a call right away. With our electrical repair work, we'll get this setup back in the best shape in no time, ensuring that you and your loved ones will enjoy the safest home life once more.
Enjoy Our Commercial Electrical Services
Do you own a business in the Hicksville area? If you do, you'll need to get some electrical work done on it at some point, won't you? Naturally, you will, and when that time comes, you need to give us a call. We can keep your business running smoothly and, above all else, safely thanks to our commercial electrical services:
Inspections
Upgrades
Repairs
And more!
The Importance Of Electrical Safety Inspections
Hiring an electrician to check out your electrical wiring in Long Island may seem like a hassle at first, but scheduling electrical safety inspections is extremely important to the well-being of your home and family. […]
Call An Electrician For These 5 Electrical Problems
Complications with the electrical system in your Long Island home shouldn't be taken lightly. In fact, the safest course of action is to hire an electrician for residential electrical services if you suspect any electrical failure, such […]