Your Trusted Ridgewood Electricians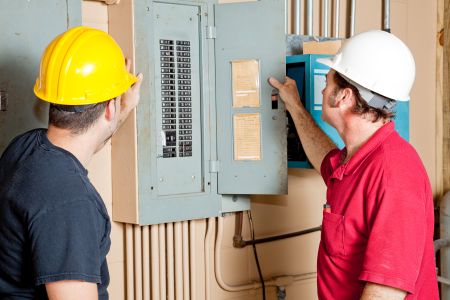 If you're in need of any kind of electrical services for your Ridgewood home, you need to call the pros at Crossland Management & Electric. Whether you're looking to get an electrical inspection, repair, upgrade, or any other related work, you can depend on us to provide the work you need when you need it.
You can also rely on us for your commercial electrical needs. We pride ourselves on providing the highest quality of work at a competitive price, so when it comes to your electrical needs, you can't find a more reliable team of experts than our Ridgewood electricians.
Electrical Repairs for Your Ridgewood Area Home
Your electrical setup is one of the most important components of your home. You'll use it at all times of the day and night, and over time, this nonstop use will put some major wear and tear on your electrical setup. Over time, this wear and tear could leave you with damaged or even unsafe electrical components.
When these damages occur, you need to act quickly before you deal with a serious problem such as an electrical fire. So, at the first sign of trouble, you need to call our Ridgewood team today. With our electrical repair work, we'll resolve any issues you might be experiencing in a timely manner, ensuring that your home will be as safe as can be once more.
Call us for Our Commercial Electrical Work
Your commercial property is bound to put more strain on its electrical setup than a residential property is likely to put on its own. To ensure your electrical setup will continue working dependably for years to come, you need to call our Ridgewood team. We offer all the commercial electrical work you need to keep your business going strong:
Inspections
Repairs
Upgrades
And more
Important Reasons Why You Need to Get a Panel Upgrade
Your electric panel is the heart of your home's electrical setup, so you need to ensure you always have a panel that can meet your needs. Over time, however, your panel may fail to meet those needs as your needs increase while it, of course, remains unable to increase along with them. […]
The Importance Of Electrical Safety Inspections
Hiring an electrician to check out your electrical wiring may seem like a hassle at first, but scheduling electrical safety inspections is extremely important to the well-being of your home and family. […]