Trustworthy Electricians In College Point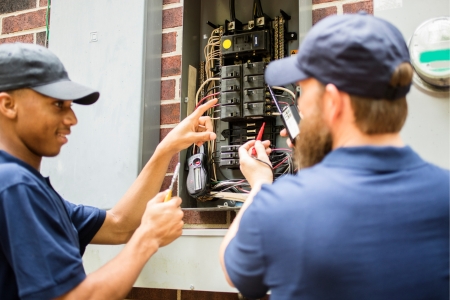 When it really comes down to it, your electrical system is easily one of the most important components of your entire College Point home. That being said, it is important to ensure your system has the kind of regular care it needs to continue functioning its best, and there is no one who can help you do this better than the professional College Point electricians here at Crossland Management & Electric.
You and your family depend on your electrical system for a great deal of the comfort, security, and convenience that you enjoy from your home on a daily basis, and anytime there is an issue within your system, it can be a major disruption to you and your family's daily lives. If your home's electrical system hasn't been functioning correctly lately, or you feel like your system is overdue for a professional inspection, give our team of professionals a call today and let us provide you with the quality care you need to keep your system up and running its best.
Here at Crossland Management & Electric, each and every one of our professional College Point electricians are fully licensed, trained, and experienced in the field, so no matter how complex the problem at hand might be, you can rest assured that our team of professionals can help you get it resolved in no time at all. If you have any questions about our full line of high quality electrical services, or if you would like to schedule an appointment for service with one of our specialists, give us a call today. Our team of experts are always standing by and would be more than happy to assist you in any way we can.
Electrical Repairs In College Point
Anytime you find yourself with electrical problems on your hands, it is important to remember never to attempt any repairs on your own. Electrical work can be very dangerous, to both you and your home if you don't know exactly what you're doing, and is often much more complex than it seems at first. The issue you are trying to fix might well just be a small symptom of a much larger problem, and without the help of a professional College Point electrician, it could easily be left unresolved to cause further issues.
For comprehensive electrical repairs you can always count on, you can always turn to our team of College Point professionals.
Important Reasons Why You Need to Get a Panel Upgrade
Your electric panel is the heart of your home's electrical setup, so you need to ensure you always have a panel that can meet your needs. Over time, however, your panel may fail to meet those needs as your needs increase while it, of course, remains unable to increase along with them. […]
The Importance Of Electrical Safety Inspections
Hiring an electrician to check out your electrical wiring may seem like a hassle at first, but scheduling electrical safety inspections is extremely important to the well-being of your home and family. […]