Electrical Wiring Services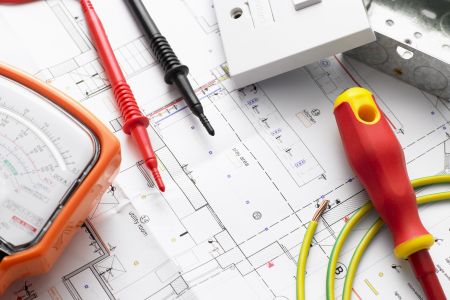 It is best to hire a Long Island electrician who can offer you fast and accurate electrical wiring services rather than trying it yourself or asking a friend for help. Just one little mistake with electrical wiring can lead to a house fire, even years later after you thought everything was fine.
Crossland Management & Electric will always be ready to provide you with electrical wiring services whether it's a large job or small. Call our trained and licensed Long Island electricians anytime you need electrical wiring services in the Long Island, NY area.
Licensed & Experienced Electricians
Efficient, Courteous Service
Local & Reputable Company
Serving Long Island Since 2011
Electrical Wiring Services We Provide
We provide wiring installation service for all types of home remodeling, lighting installations, outlet installations, heavy equipment installations, new appliances, generator installations, and more.
Our electricians replace old aluminum wiring and knob and tube wiring in older homes in NYC and Long Island. We also install or replace electrical wiring as is necessary when we handle electrical repairs.
Wiring Installations - Generators & Appliances
Wiring Installations - Lighting & Outlets
Wiring for Remodeling
New Construction Wiring
Wiring for Home Additions
Rewiring Houses
3 Electrical Repairs For Your Long Island Home You Don't Want To Put Off
It's easy to put things off when our lives are so busy but home safety is an important concern for everyone. Whether you have an older Long Island home or newer, there are certain electrical repairs that just can't wait even though they may seem […]
How Your Commercial Electrical Contractor Can Help Your Queens Restaurant Business
Owning a restaurant in Queens means everything falls on you including hiring a commercial electrical contractor to care for the electrical system of your building. Let's face it, you've little time to think much less breathe when running a […]