Dependable Electricians In Woodside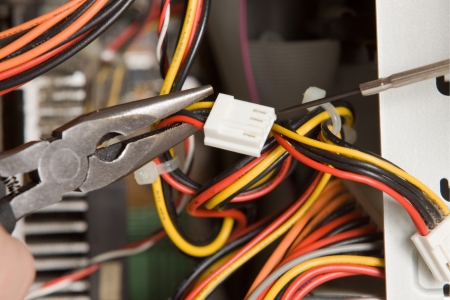 If you are like most homeowners out there, you and your family depend on your electrical system for a great deal of the comfort and convenience that you enjoy from your home on a daily basis, and anytime your system isn't functioning like it should, it can be a major disruption to your daily lives.
For the quality electrical services you need to get things back to normal, you can always count on the professional Woodside electricians here at Crossland Management & Electric to get the job done, and get it done right. For over 35 years now, we have been helping local home and business owners alike with all of their electrical service needs, no matter how simple or complex they might be, and in that time, we have earned our reputation as the local area's premier name in quality service and results. Don't settle for anything less than the best when it comes to your Woodside home's electrical service needs. Give us a call today and find out what sets us apart from all the rest.
Here at Crossland Management & Electric, our team of professional Woodside electricians are all fully licensed, trained, and experienced in the field, and we are ready to help you address any and all of your electrical needs. Whether you are just looking for minor tune up work, you need a new electrical panel installed, or you are looking to enhance the beauty of your home with some new lighting, our team of professionals are ready to help.
If you have any questions about our full line of high quality electrical services, or if you would like to schedule an appointment for service with one of our specialists, give us a call today. Our team of experts are always standing by and would be more than happy to help in any way we can.
Electrical Safety Inspections In Woodside
Much like your car, your Woodside home's electrical system greatly benefits from catching issues early as opposed to catching them after they have already done their damage. This is precisely why annual electrical safety inspections are so important.
When you hire our team of professional Woodside electricians to perform an electrical safety inspection on your home, you can rest assured that our team of experts are going to thoroughly go over your home's entire electrical system to find any lingering issues, or anything that might become an issue given enough time, and correct them before they can do damage to your home or put you and your family's well being in jeopardy.
Important Reasons Why You Need to Get a Panel Upgrade
Your electric panel is the heart of your home's electrical setup, so you need to ensure you always have a panel that can meet your needs. Over time, however, your panel may fail to meet those needs as your needs increase while it, of course, remains unable to increase along with them. […]
The Importance Of Electrical Safety Inspections
Hiring an electrician to check out your electrical wiring may seem like a hassle at first, but scheduling electrical safety inspections is extremely important to the well-being of your home and family. […]