Bethpage's Trusted Electrical Service Specialists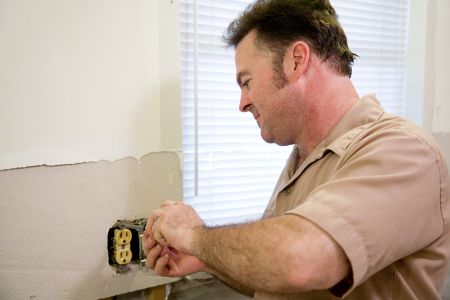 Bethpage residents will be happy to know that Crossland Management & Electric consists of experienced electricians who can tackle a variety of electrical projects. Your electrician from our reputable company will make sure that all of your electrical system's needs are met in a professional and timely fashion.
If you're looking for a trusted electrician in the Bethpage area that can perform professional services such as electrical inspections and landscape lighting, consider making an appointment with Crossland Management & Electric.
Professional Electrical Inspections in Bethpage, NY
Scheduling electrical inspections with an experienced electrician is advised by the National Fire Protection Association (NFPA). According the NFPA, electrical fires are responsible for more property damage caused by fires than any other complication. When Bethpage homeowners get their electrical systems inspected annually by skilled professionals, their electricians will be able to check for hidden damage and perform the appropriate repairs, limiting the risk of an electrical hazard. If it's time to schedule an electrical inspection, don't hesitate to give Crossland Management & Electric a call so that our qualified team can test outlets and lights, recommend repairs and replacements, check for exposed wires, and test smoke alarms in your home.
Select the Right Landscape Lighting Option for You
You might choose to add landscape lighting to your Bethpage property because you want to increase visibility and reduce trip hazards or you want to elevate security and deter trespassers from entering your property. Our electrical service company offers landscape lighting services, and our electricians can help you install landscape lighting such as flood lights, step lights, wall lights, post lights, or ceiling lights. Step lights and wall lights are popular on pathways and stairways, and flood lights and post lights are commonly used to increase security.
The Importance Of Electrical Safety Inspections
Hiring an electrician to check out your electrical wiring in Long Island may seem like a hassle at first, but scheduling electrical safety inspections is extremely important to the well-being of your home and family. […]
Call An Electrician For These 5 Electrical Problems
Complications with the electrical system in your Long Island home shouldn't be taken lightly. In fact, the safest course of action is to hire an electrician for residential electrical services if you suspect any electrical failure, such […]