Keep Your Home Safe With Whole House Surge Protection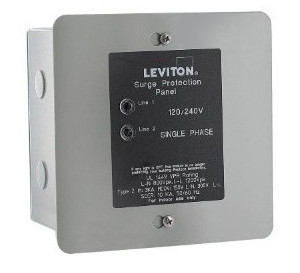 The surge protection systems we install in your Long Island home will protect all your expensive electronics, lights, and appliances from power surges. It also protects the wiring circuits, components, and other parts of the electrical system that can get expensive to replace.
Crossland Management & Electric can install this whole-home surge protection system for you. We have been helping local homeowners with surge protection installations, repairs, and maintenance services since 2011.
If you would like to learn more about whole home surge protection or about how this installation works, contact our Long Island electricians today.
We Install Leviton Surge Protectors
Whole House Surge Protection Installation
Maintenance & Repairs
Expert Services
How Surge Protection Keeps Your Home Safe
In addition to lightning strikes, surges can, and often do, happen when the utility company goes through power grid switching. They can also happen if the homeowner has neglected the panel upgrades throughout the years.
Surges can take out a whole circuit of wiring in your home or just damage a connection, leaving it all unsafe to use. Whole house surge protection installation is the only solution to protect everything from the damage that power surges cause.
It works by sensing power surges and will shut off the power to the wiring circuits before the surge can come into contact with anything hardwired or plugged into the outlets along the circuit.
Most people opt for a surge protector strip because they are cheap. Portable surge protection strips cannot protect everything in your home. They only protect a few devices at a time and many strips are made to only work for one surge. Do you know what type you have? Bet you didn't read that fine print!
The surge protection systems that protect your whole home are installed directly into the main service panel of your Long Island home. This system can help you to avoid electrical repairs and the expense of replacing costly appliances.
3 Electrical Repairs For Your Long Island Home You Don't Want To Put Off
It's easy to put things off when our lives are so busy but home safety is an important concern for everyone. Whether you have an older Long Island home or newer, there are certain electrical repairs that just can't wait even though they may seem […]
How Your Commercial Electrical Contractor Can Help Your Queens Restaurant Business
Owning a restaurant in Queens means everything falls on you including hiring a commercial electrical contractor to care for the electrical system of your building. Let's face it, you've little time to think much less breathe when running a […]
If you are looking for whole house surge protection services in NYC and Long Island, call 516-375-2500 or complete our online service request form.