Get a Brand New Panel Upgrade For Your NYC and Long Island Home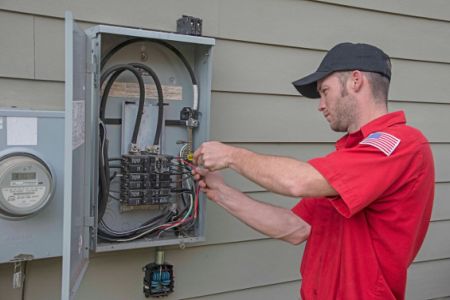 If you are not sure when the last panel upgrade was done for your home's electrical system, it's time to let our electricians take a look at your old breaker box. We'll know if you need a panel upgrade or if the existing electrical panel is functioning well as it is.
Panel upgrades are necessary for home safety. Our Long Island electricians often take care of panel upgrades while we are taking care of electrical repairs. The main electrical panel in your Everett area home should be upgraded about every 5 to 10 years as the safety code standards change.
Unfortunately, many homes still have breaker panels that were installed when the home was built back in the 1950's thru the 1980's. We discover many outdated electrical systems within the 5 boroughs of NYC and Long Island that should have had panel upgrades decades ago.
A new electrical panel will be able to fully support the power demands of your Long Island household. Panel upgrades are important for safety, so don't delay calling our electricians at Crossland Management & Electric if you haven't had one done.
What To Expect With Panel Upgrades
Our qualified electricians will assess the age of your existing electrical panel and the systems it supports. We'll ask you about any electrical issues you may be having as well as assess what type of electrical load your home and household demands.
Our electricians will then recommend a course of action for the panel upgrade and provide a detailed estimate of the cost of the new electrical panel and labor costs to replace the old one. And, of course, we will be happy to answer your questions and listen to any concerns you may have.
3 Electrical Repairs For Your Long Island Home You Don't Want To Put Off
It's easy to put things off when our lives are so busy but home safety is an important concern for everyone. Whether you have an older Long Island home or newer, there are certain electrical repairs that just can't wait even though they may seem […]
How Your Commercial Electrical Contractor Can Help Your Queens Restaurant Business
Owning a restaurant in Queens means everything falls on you including hiring a commercial electrical contractor to care for the electrical system of your building. Let's face it, you've little time to think much less breathe when running a […]
If you are looking for a professional panel upgrade electrician in Long Island, call 516-375-2500 or complete our online service request form.