Corona's Favorite Electrician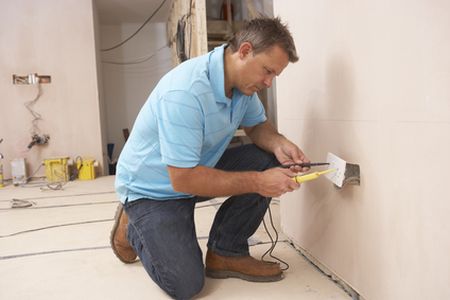 Your electrical system is easily one of the most important components of your Corona home, providing you and your family with a great deal of comfort and convenience you enjoy on a daily basis. As such an important facet of your home, it's important to ensure you have the name of a professional electrician you can trust anytime an issue arises, and here in Corona, there's no one better suited to that task than the team of skilled pros at Crossland Management & Electric, Inc.. Are you looking for a professional Corona electrician you can trust to handle all of your electrical service needs? If so, give our team of skilled professionals a call today, and let us show you the kind of quality results that have helped make us one of the most trusted names in electrical repairs the area has to offer.
At Crossland Management & Electric, Inc., we understand the important role your electrical system plays in your and your family's daily lives, and our team of licensed Corona electricians want to do everything in our power to keep your electrical system operating as safely and efficiently as possible. To do so, we offer a comprehensive lineup of high-quality electrical services designed to fit just about any need you could imagine. Whether you're looking for electrical repairs, generator installation, or even help with rewiring, our team of skilled professionals can provide you with the quality service you need to get the job done right. If you have any questions about our full line of high-quality electrical services, or if you would like to schedule an appointment for a consultation, give us a call today. Our team of experts is always standing by and would be happy to assist you in any way we can.
Professional Electrician Services For Property Owners In Corona
If you encounter any electrical problems at your residence or workplace in Corona, it is crucial to have the contact information of a dependable electrician who can assist you in resolving the issue quickly. Our team of experienced electricians possesses the requisite skills and expertise to identify and fix problems, install new equipment, and ensure compliance with building codes and safety regulations. It is hazardous to undertake electrical work yourself, which can jeopardize your safety and property. If you are seeking a trustworthy electrician to handle your electrical service requirements, contact us without delay.
Dependable Electrical Repairs for Your Corona Home or Business
Minor glitches in your residential electrical system can lead to significant problems within your home and even pose safety threats. At Crossland Management & Electric, Inc., we understand the urgency of addressing these issues promptly. Our adept technicians are ready to offer quick and dependable electrical repairs for your Corona home, ensuring that any hazardous situations are resolved without delay. Trust us to safeguard your home by promptly addressing any electrical issues that may be jeopardizing your property.
Important Reasons Why You Need to Get a Panel Upgrade
Your electric panel is the heart of your home's electrical setup, so you need to ensure you always have a panel that can meet your needs. Over time, however, your panel may fail to meet those needs as your needs increase while it, of course, remains unable to increase along with them. […]
The Importance Of Electrical Safety Inspections
Hiring an electrician to check out your electrical wiring may seem like a hassle at first, but scheduling electrical safety inspections is extremely important to the well-being of your home and family. […]