Top NYC and Long Island Electrical Repair Services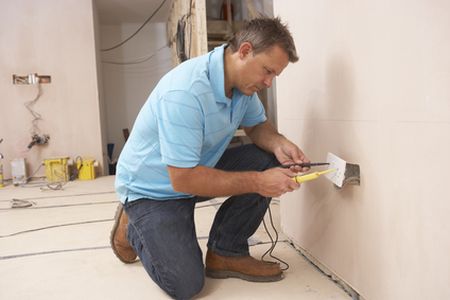 Crossland Management & Electric provides expert electrical repairs for your home in NYC and Long Island. Our experienced electricians offer fast and accurate electrical repairs service.
Our licensed Long Island electricians have extensive experience in electrical troubleshooting, electrical inspections, and repairs. This experience means we can accurately diagnose the issue and provide you with the right electrical repairs solution.
Our electricians stay on top of new technologies, so we provide electrical repairs for a very wide range of electrical systems inside and outside of your home. If you are having problems with a GFCI outlet, ceiling fan, old wiring, pool lighting, generator, or anything else, we can take care of the electrical repairs today.
CEILING FAN INSTALLATION
Ceiling fans are a great addition to any home. However, the process of ceiling fan installation can be truly cumbersome and awkward if you're not experienced and don't have someone to help with the lifting.
Instead of tackling the ceiling fan installation yourself and getting stuck in the middle of the process, call our experienced electricians first. We'll make sure the ceiling fan installation is done correctly and that it's all safe to use. We can also install new wiring and switches for your new ceiling fans throughout your house.
Do you have one or more ceiling fans already that aren't working? We would be happy to help you replace the old ceiling fan or repair the wiring, whichever is necessary. We take on jobs of all sizes, so feel free to call us for electrical repairs when you need help with one or more ceiling fans.
Our electricians are also available to help you install light kits, dimmer switches, or wireless switches if you want to upgrade your ceiling fans.
Something worth looking into are the smart technologies available to connect all your ceiling fans and the lights they support together in one easy-to-use control center. Imagine operating your ceiling fans anytime you like, no matter where you are, with a simple smartphone app!
TROUBLESHOOTING
The level of troubleshooting skill your electrician directly affects their ability to provide you with accurate electrical repairs. It takes years of successfully solving a vast array of different electrical problems before an electrician becomes an expert in electrical troubleshooting. It's also important that they invest in the right electrical testing equipment and diagnostic tools.
In addition to all the training and journeyman experience we have, our electricians have spent years gaining electrical troubleshooting skills. Our company makes sure each electrician is outfitted with the right diagnostic tools as well.
The last thing you need is to continue experiencing trouble after the repairs are made. When you call us with a problem that needs to be solved, our expert electricians will be able to quickly troubleshoot the cause of the problem. We'll give you clear details about what solutions will work best for your particular electrical repair project.
OUTLET REPAIRS
Do you need electrical repairs for one or more outlets in your home? Outlet trouble is not something you want to let go because even a loose wire connected to the outlet can be a serious electrical safety concern. If you need outlet repairs, our electricians are here to solve the problem for you.
Some outlet problems seem minor, like when the outlet won't accept a plug or it keeps frying out your lamp light bulbs. However, these are signs that something is wrong with the outlet. It's possible there's a loose wire, connection, or a blockage which prevents the outlet from working properly.
Our electricians can troubleshoot the problem and test the outlets to figure out what needs to be done. We arrive in vehicles that are stocked full of parts, so there won't be any delays. We'll take care of your outlet repairs quickly so you can get back to your busy life.
GFCI ELECTRICAL OUTLETS
If one of your GFCI outlets isn't working right, other outlets along the circuit may stop working too. That can be frustrating, especially if you have to reset the bad outlet over and over again. If you are dealing an issue like this, call to schedule an appointment for GFCI electrical outlet repairs.
If you don't have GFCI outlets in your Long Island home, installation is important. These outlets cut off power to the wiring if they sense moisture along the circuit or on the electrical device you are using.
The National electrical safety codes and local authorities set forth regulations on where GFCI outlets should be installed. Our electricians will know where you need GFCI outlet installation, so we will advise you of where they need to be placed in your home.
3 Electrical Repairs For Your Long Island Home You Don't Want To Put Off
It's easy to put things off when our lives are so busy but home safety is an important concern for everyone. Whether you have an older Long Island home or newer, there are certain electrical repairs that just can't wait even though they may seem […]
How Your Commercial Electrical Contractor Can Help Your Queens Restaurant Business
Owning a restaurant in Queens means everything falls on you including hiring a commercial electrical contractor to care for the electrical system of your building. Let's face it, you've little time to think much less breathe when running a […]