Never Lose Power With A Back Up Home Generator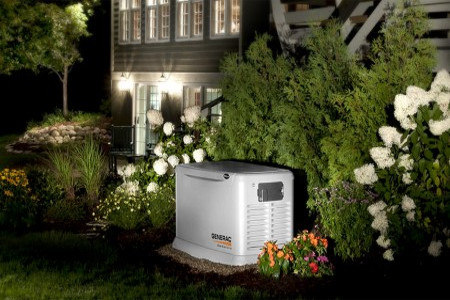 Home generators offer an important backup power source for you and your family during an outage in NYC and Long Island. Whether the power goes out for just a few minutes or a few months, a home generator installation can keep your HVAC system, appliances, and other important systems running.
The home generators we install at Crossland Management & Electric are made to serve your whole home but do come in smaller sizes to power just heating and a few lights. We will work with you closely to look at different generators and help you understand which ones will meet your goals during a power outage. You have many choices in generators that can run just a few things if you like.
We install the whole home generator directly into your electrical system so it can provide seamless, automatic power whenever the main power supply is experiencing problems.We are often able to connect them to a fuel source such as a propane tank or natural gas line.
Our Long Island electricians can also help you to install the wiring for a portable home generator if you prefer this type. Keep in mind that whole home generators don't have to be refueled like a portable generator and never have to be turned on or off. They run much more quietly and many can run for months at a time.
In addition to installing home generators, you can count on us if you would like to install a surge protection system to protect your equipment investment. We also handle electrical repairs for the wiring and electrical components that are connected to your generator.
We Service & Install Generac Generators
Help With Home Generator Selection
Expert Generator Installation
Reliable Generator Repairs
3 Electrical Repairs For Your Long Island Home You Don't Want To Put Off
It's easy to put things off when our lives are so busy but home safety is an important concern for everyone. Whether you have an older Long Island home or newer, there are certain electrical repairs that just can't wait even though they may seem […]
How Your Commercial Electrical Contractor Can Help Your Queens Restaurant Business
Owning a restaurant in Queens means everything falls on you including hiring a commercial electrical contractor to care for the electrical system of your building. Let's face it, you've little time to think much less breathe when running a […]