Your Trusted Electrician in Elmhurst, NY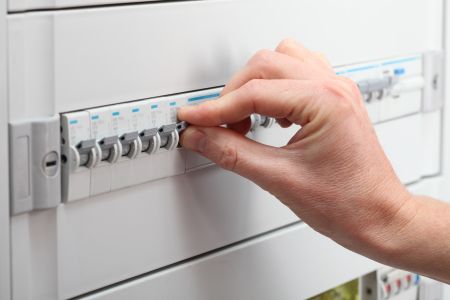 Do you need an electrician to help you troubleshoot and repair an electrical problem in your Elmhurst home or business? At Crossland Management & Electric, you can depend on our residential, commercial, and industrial electricians to help you to solve any issue you are dealing with.
Our professionals have spent many years as licensed electricians, serving Elmhurst and the surrounding areas as a company since 2011. We quickly earned a reputation of being a top local electrician who provides quality service and is dedicated to our customer's satisfaction.
Whether you need electrical repairs, maintenance, upgrades, or installation, you can count on our Elmhurst electricians to provide you with dependable service you can trust.
Competitive Pricing
Licensed & Insured
Serving Elmhurst With Dedication
Residential, Commercial, Industrial Electricians
Residential Electrical & Repairs
Crossland Management & Electric is your local full-service residential Elmhurst electrician. When you own a home, there are many problems that you may face with the electrical system. You'll also need an electrician for panel upgrades, outlet repairs, and wiring installation or replacement.
One of the main services we provide is electrical repairs but you can count on us for everything else you need as well. We are available for 24/7 emergency electrical repairs in Elmhurst, so feel free to call day or night if you are concerned about anything and need help.
Do you need to upgrade your landscape lighting or electrical panel today? Are you planning to remodel and need new wiring, switches, and outlets for an appliance? Have you been thinking about generators for backup power during those surprising emergency blackouts?
We are the qualified electricians who can help you with these projects and more. Just call to tell us what's going on and about the services you need.
Whole Home Generators
Whole Home Surge Protection
Service & Panel Upgrades
Electrical Repairs
Electrical Safety Inspections
and more
Commercial Electrical & Repairs
Your Elmhurst business functions on the power provided by the electrical system in your commercial building. You should have all the power you need to safely operate your equipment, appliances, and devices.
If it's time to make sure your electrical system is up to code with a panel upgrade or you need electrical troubleshooting or wiring installation, call our Elmhurst commercial electrical contractors to schedule service.
We strive on every project to make sure our work is done right the first time and are highly qualified to assist you with commercial electrical work. Our hope is to become your go-to electrician for all your service needs.
Industrial Electrical & Repairs
If there is ever a problem with your industrial electrical system or it's time to install new equipment, you can count on our electrical contractors to assist you with competent service. Our electricians have spent many years gaining experience in industrial electrical maintenance, repairs, installations, and upgrades.
Crossland Management & Electrical handles small to large jobs, and everything in-between. We handle our work with expertise and efficiency. Every one of our experienced industrial electricians is dedicated to your complete satisfaction on every project.
Important Reasons Why You Need to Get a Panel Upgrade
Your electric panel is the heart of your home's electrical setup, so you need to ensure you always have a panel that can meet your needs. Over time, however, your panel may fail to meet those needs as your needs increase while it, of course, remains unable to increase along with them. […]
The Importance Of Electrical Safety Inspections
Hiring an electrician to check out your electrical wiring may seem like a hassle at first, but scheduling electrical safety inspections is extremely important to the well-being of your home and family. […]