The Top Industrial Electrician Serving All of Long Island & NYC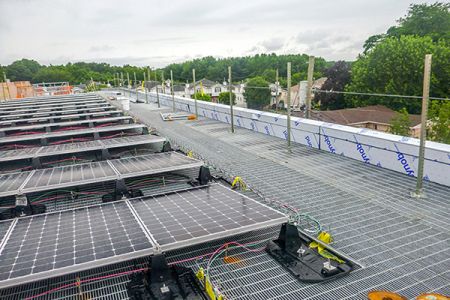 Crossland Management & Electrical is a leading industrial electrician in the NYC and Long Island area. Our industrial electricians have completed simple to complex projects for a diverse group of clients including industrial property owners, investors, and facility managers.
Licensed in New York City and Nassau County, our Long Island electricians have completed many industrial electrical projects in the area since 2011. The combination of our professionalism, consistency, speed, quality, and operational flexibility make us unique in this field.
We are good at what we do and offer you competitive prices and flexible service that is tailored to your unique needs. Take a look at the services our industrial electricians offer and then contact us with questions or to schedule your free estimate.
Industrial Warehouses
Food Processing Plants
Manufacturing Plants
High-Tech Industrial Complexes
Water Treatment Plants
Products Distribution Centers
Paper & Pulp Firms
Metal Processing & Distribution Centers
Municipal Industrial Complexes
and more
Services Our Industrial Electricians Provide
We are a commercial electrical contractor who provides customizable and detail-oriented industrial electrical services in the area of New York and Long Island.
Our industrial electricians can assist you with periodic electrical maintenance, electrical repairs, wiring installation, panel upgrades, remodeling, security lighting, intercom systems, service changes, and much more. All of our work is done according to code and to our company's strictest service quality standards.
When you choose Crossland Management & Electric as your go-to industrial electrician, you'll have access to 24/7 emergency repair services. We make sure we have an experienced industrial electrician on standby to provide you with fast and accurate emergency electrical repairs.
Ethical
Dedicated
Qualified
Competitively Priced
3 Electrical Repairs For Your Long Island Home You Don't Want To Put Off
It's easy to put things off when our lives are so busy but home safety is an important concern for everyone. Whether you have an older Long Island home or newer, there are certain electrical repairs that just can't wait even though they may seem […]
How Your Commercial Electrical Contractor Can Help Your Queens Restaurant Business
Owning a restaurant in Queens means everything falls on you including hiring a commercial electrical contractor to care for the electrical system of your building. Let's face it, you've little time to think much less breathe when running a […]