Tips To Find A Qualified Glen Cove Electrician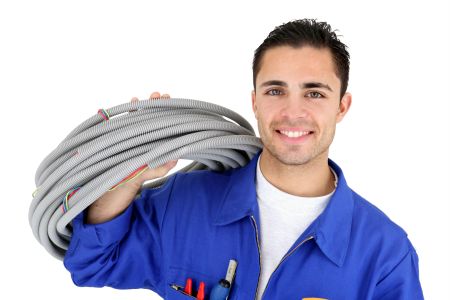 Hunting for a qualified Glen Cove electrician can be more complicated than seems. Even if an electrical contractor is licensed, it doesn't mean they are qualified to do the specific work you need them to. Hiring a qualified Glen Cove electrician is important, but how do you know the one you are prospecting can do the job right?
Most of us search for home services online. Doing a google search will bring up hundreds of Glen Cove electricians who provide service but there is no easy way to navigate through them all to those who are actually qualified.
It all boils down to making a call to each Glen Cove electrician. If you want to find a qualified electrician for your home, be willing to ask each one the following.
How long have you been a licensed electrician?
Even if a small residential electrical service company in Glen Cove has just gotten started, the owner could have many years of experience. As you are making calls, be sure to ask how long their company has been in business AND how much industry experience their electricians have. This will give you an idea of their qualifications.
Do you have experience providing "____" services?
If you need a Glen Cove electrician to install a home generator or provide you with an electrical inspection, you want to make sure they are qualified to do the specific work that you need.
Not all licensed electricians provide the same services. Also, an electrician has to be additionally certified for some services such as home electrical safety inspections. Ask what experience and special certifications or licensing they have to qualify them for your job.
Ask them to provide phone numbers of past clients who hired them to do your specific type of work. Be willing to make those calls to find out first-hand if they are qualified to assist you.
Are you insured?
The make or break qualification of any Glen Cove electrician is whether or not they are covered by liability insurance and worker's compensation. Electrical work is a potentially high-liability service that should be covered by an electrician's insurance. Ask the electrician if they are insured. You can also ask for a copy of their insurance certificates to be certain of their coverage.
What is included in your estimate and would the fee change for any reason?
You want to ask an electrician upfront what type of estimates they provide. You want everything to be included with every detail written in the estimate. You also want to know the price up front with no surprises later. Find out what type of estimates they provide and whether or not they will honor the quoted price later.
We are always here for you!
As a Glen Cove homeowner, finding a trusted and qualified electrician is a necessity for the safety and well-being of your home and family. Always be willing to ask questions, listen carefully, and find an electrician who provides open communication. For those homeowners looking for a reliable home electrician in NYC and Long Island, Crossland Management & Electric will always be here to provide you with superior service.