Welcome To Crossland Management & Electric: A Locust Valley Electrician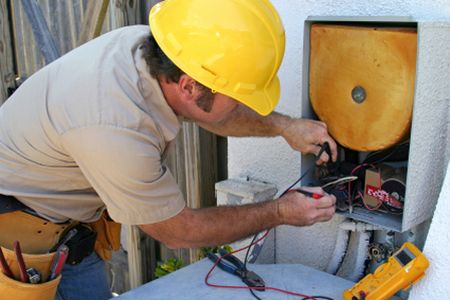 Our Locust Valley electricians are the team that locals have trusted since 2011. Since we began as a company, we've remained proud to have provided our customers with the type of quality service they expect from their local electrician.
To us, quality service means training hard and working hard to become the best electricians we can possibly be. It also means treating our customers with the honesty and respect they deserve. We are committed to achieving and maintaining these ethics on every project we assist our customers with.
You've come to visit us here because you are looking for a Locust Valley electrician with hopes to get the best service. With Crossland Management & Electric, you can count on our expert electricians every time whether the job is simple or highly complex.
Whether you are interested in our free estimates, our full line of residential services, or the excellent way we strive to treat you, come to our highly qualified Locust Valley electricians if you need service today. We want to be your trusted local electrician and will work hard to accomplish this goal.
Accurate Estimates
Highly Qualified Electricians
We Offer Complete Residential Services
3 Decades of Electrical Experience
Residential Electrical & Repairs
Crossland Management & Electric offers local homeowners a complete array of residential electrical services. You can come to our Locust Valley commercial electricians with any electrical repair problem and we'll be able to solve it for you.
We are here for your electrical upgrades, new wiring installations, generators, surge protection, and electrical safety inspections. Our Locust Valley commercial electricians are well versed in local and national safety code regulations, so we leave you with safe work that you can trust to be done right.
Electrical Safety Inspections
Electrical Repairs
Surge Protection & Generators
Wiring Repairs & Installations
Panel Upgrades & Other Upgrades
Expert Troubleshooting
Commercial Electrical & Repairs
Our commercial electricians are highly skilled in troubleshooting electrical systems of all types. If there is a problem with the main electrical system, outlets, lighting, or any other component, we are the Locust Valley commercial electrician who can help you to solve the problem and get your business back on track quickly.
In addition to 24/7 emergency electrical repairs, we are available to assist you with electrical remodeling, generators, surge protection systems, maintenance, electrical inspections, panel upgrades, and everything else your Locust Valley business needs.
24/7 Emergency Service
No Job Too Big or Small
Free Estimates, Competitive Rates
Industrial Electrical & Repairs
When you hire our industrial electrical contractors to do work on your facility, you'll find our customer care and quality workmanship are second to none. We respond to all of your calls no matter what time it is and all of our staff is friendly and accommodating.
Crossland Management Electric is fast becoming well-known in Locust Valley as a go-to industrial electrician. No matter what type of facility you own or operate, let us prove to you today that we can meet your industrial electrical service needs and exceed your expectations.
Complete Power Services
Circuit Breakers, Switchgear & Distribution
Electrical Installation for Equipment
Repair & Maintenance
Flexible Preventative Maintenance Solutions
3 Electrical Repairs For Your Long Island Home You Don't Want To Put Off
It's easy to put things off when our lives are so busy but home safety is an important concern for everyone. Whether you have an older Long Island home or newer, there are certain electrical repairs that just can't wait even though they may seem […]
How Your Commercial Electrical Contractor Can Help Your Queens Restaurant Business
Owning a restaurant in Queens means everything falls on you including hiring a commercial electrical contractor to care for the electrical system of your building. Let's face it, you've little time to think much less breathe when running a […]