Crossland Management & Electric: Your Trusted Great Neck Electrician!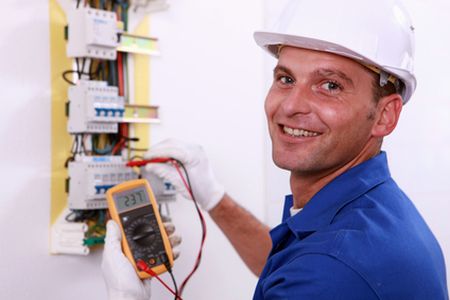 The last thing anyone needs is to have trusted a Great Neck electrician who wasn't qualified. Mistakes delay your schedule, leaves you frustrated, and leaves your electrical system in an unsafe condition.
With Crossland Management & Electric, you'll never have to worry about the quality of our workmanship. Each service we provide to you is handled with the utmost care by our highly skilled electrician who has your home or building safety in mind.
We have been the Great Neck electricians who locals trust since 2011. From the beginning, our team has been dedicated to keeping our customers happy.
Our goal is to provide you with service you can trust in every way. This motivates us to continually improve our ability to offer you expert workmanship, competitive estimates, and a full range of residential, commercial, and industrial electrical services.
Call us today to set up a free estimate if you are looking for a Great Neck electrician who can meet your needs and exceed your every expectation.
Residential, Commercial, Industrial Electrical
Expert Service From Qualified Electricians
Serving Great Neck Since 2011
Competitive Prices & Free Estimates
Residential Electrical & Repairs
You can come to our Great Neck electricians for a wide variety of home electrical services. We have spent years in training and honing our skills in electrical troubleshooting and repairs, electrical safety inspections, generators, surge protection, lighting, upgrades, electrical remodeling, and everything else you need for your home.
Home Remodeling Electrical
Lighting Installation & Repair
Ceiling Fan Installation & Repair
Troubleshooting & Emergency Repairs
Home Generators & Surge Protection
Panel Upgrades & Electrical Inspections
Commercial Electrical & Repairs
With our experience and dedication to your complete satisfaction, you can always count on receiving the type of quality commercial electrical and repairs that you can trust.
Commercial electrical will always focus on safety during and after the work. Our Great Neck commercial electricians make sure your electrical system is in compliance with national and local safety regulations whether we are providing you with repairs, upgrades, installation, or maintenance.
Industrial Electrical & Repairs
Your industrial electrical contractor is your temporary partner when they provide you with service. Your business goals, budget needs, time constraints, and service needs are all aspects that you hope they will consider.
At Crossland Management & Electric, we understand what you expect and need from your industrial electrical contractor. From the accurate repairs and installations we provide that are always up to code to the skill and dedication it takes to get your project completed on time and according to the budget, you can count on our industrial electricians for top quality service.
We've completed many projects in the Great Neck area and are pleased to offer you our assistance if you need any of the services below. We also assist with the electrical work for remodeling and renovations as well.
Electrical Construction
Transformers, Substations & Generators
Pole/Power Electrical Service
Lighting & Security Lighting Service
Wiring Design & Installation
Installation of New circuits & Panel Boards
Relocating Wiring
Expansions, Upgrades or Remodels
Troubleshooting and Emergency Repair Service
Maintenance & Service for Existing Electrical
3 Electrical Repairs For Your Long Island Home You Don't Want To Put Off
It's easy to put things off when our lives are so busy but home safety is an important concern for everyone. Whether you have an older Long Island home or newer, there are certain electrical repairs that just can't wait even though they may seem […]
How Your Commercial Electrical Contractor Can Help Your Queens Restaurant Business
Owning a restaurant in Queens means everything falls on you including hiring a commercial electrical contractor to care for the electrical system of your building. Let's face it, you've little time to think much less breathe when running a […]