Welcome To Crossland Management & Electric: A Glen Head Electrician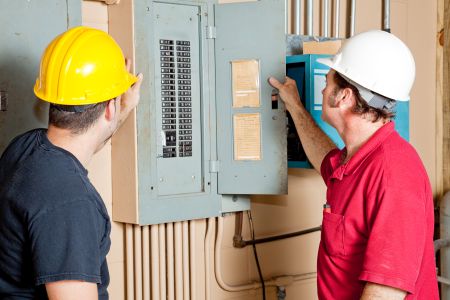 Call Crossland Management & Electric if you are looking for an electrician for services in Glen Head, NY. We provide a full line of residential, industrial, and commercial electrical in the area. We have the experience to meet your every need.
At Crossland Management & Electric, our main focus is to provide our customers with expert workmanship and sincere, dedicated customer service. We care about the quality of work we provide and treat our customers professionally and with honesty.
Whether you want to schedule an appointment for electrical repairs for your Glen Head home or you need commercial or industrial service, call our electricians today to get a competitive estimate. We look forward to meeting you and assisting you with your service needs.
Trusted Residential Electricians
Skilled at All Residential Electrical Services
Local Electricians For 3 Decades
Flat Rate Estimates
Residential Electrical & Repairs
Our Glen Head electricians are skilled at all residential electrical services. You'll have access to a full line of services to include electrical inspections, repairs, upgrades, remodeling, and new installations.
Do you need us to install wiring for a new appliance you purchased today? Or, is it time for an electric service panel upgrade? Are you in need of emergency electrical repairs? Our skilled Glen Head electricians have you covered for all this and more.
All Types of Electrical Repairs
Service for Generators
Surge Protection Systems
Lighting - Indoor & Outdoor
Panel Upgrades
Electrical Safety Inspections
Wiring Installation, Replacement & Repairs
Commercial Electrical & Repairs
Our commercial electricians offer service in Glen Head for all types of businesses. We provide maintenance, electrical repairs, wiring installation, security lighting, intercom wiring, and more. Our commercial electrical services are known to be accurate and dependable.
Our commercial electricians regularly provide services to:
Commercial Retail Stores
Public Works
Apartments & Condos
Municipalities
Getting reliable help for any necessary electrical work in your building is important. Know that our commercial electricians are highly skilled and dedicated to your complete satisfaction.
We stay up to date with code compliance regulations and our continuing education. Call today for service your business can count on, time and time again.
Industrial Electrical & Repairs
When you own or operate an industrial facility or warehouse in Glen Head, your electrical contractor needs to provide prompt, thorough, and friendly service. This quality service is what you can expect from our industrial electrical contractors at Crossland Management & Electric.
Our trusted and talented industrial electricians have completed many projects throughout the Glen Head and surrounding areas. We've assisted clients with:
Relocating equipment
Wiring motor controls
Power distribution systems
Installing & moving circuits
Designing & installing new electrical systems
Troubleshooting, testing & emergency repairs
Electrical maintenance and more
If you've been missing that important partnership you can trust with an electrical contractor you can count on, we are available to meet your service needs today. Let us show you what working with a skilled and dedicated industrial electrician is like.
You'll find our pricing to be set at competitive rates, our customer service to be excellent, and our workmanship to be of the highest quality around.
3 Electrical Repairs For Your Long Island Home You Don't Want To Put Off
It's easy to put things off when our lives are so busy but home safety is an important concern for everyone. Whether you have an older Long Island home or newer, there are certain electrical repairs that just can't wait even though they may seem […]
How Your Commercial Electrical Contractor Can Help Your Queens Restaurant Business
Owning a restaurant in Queens means everything falls on you including hiring a commercial electrical contractor to care for the electrical system of your building. Let's face it, you've little time to think much less breathe when running a […]