Crossland Management & Electric: Your Trusted Glen Cove Electrician!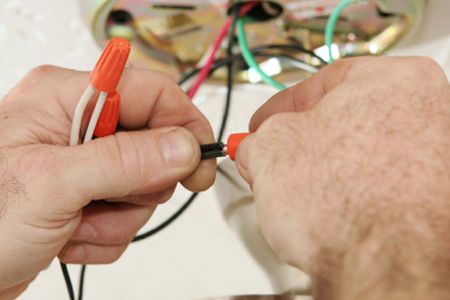 When it comes to hiring an electrician for your Glen Cove home or business, you only want the type of service you can trust. You need a licensed electrician who is qualified to meet all your service needs accurately, according to the budget, and according to schedule.
Crossland Management & Electric is the experienced residential, commercial, and industrial electrician who can provide you with this type of quality service in Glen Cove. If you are looking for an experienced electrician who provides competitive quotes and great service in Glen Cove, call us today.
Competitive Quotes
Experienced Electricians
Full Range of Electrical Services
Licensed & Insured
Residential Electrical & Repairs
When you come to Crossland Management & Electric with a need for your Glen Cove home, you'll never have a problem getting service. We are experienced in a full range of electrical services for your home ranging from electrical repairs and troubleshooting to all new electrical installations for remodeling.
Have you had an electrical inspection done lately? Our electricians can inspect your electrical panel, wiring, and other components to make sure it's all safe for you and your family.
Whether you have a concern right now or not, be sure you schedule an electrical safety inspection for your home about every 5-7 years, panel upgrades are important and anything can happen with the wiring.
We can take care of your electrical inspection today and meet all of your other service needs as well.
Troubleshooting & Electrical Repairs
Generators & Surge Protection
Wiring Services
Panel Upgrades
Lighting
Emergency Service Available
Commercial Electrical & Repairs
Do you need a reliable commercial electrical contractor for your Glen Cove restaurant, retail store, apartments, or other business? When you work with an electrician, you count on them to be honest, dedicated, and qualified.
With Crossland Management & Electric, you'll never have to worry over poor quality work or getting service from an electrician who doesn't treat you ethically.
We have been helping local businesses with their electrical remodeling, renovations, repairs, installations, upgrades, and maintenance since 2011.
We are qualified and dedicated to providing you with a full line of commercial electrical services that your Glen Cove business can depend on. What can we do to help you today?
Security Lighting
Commercial Generators
Wiring Installations
Emergency Electrical Repairs
Panel Upgrades
Electrical Maintenance
Industrial Electrical & Repairs
When you hire an industrial electrician in Glen Cove, you expect them to be top-notch at electrical troubleshooting and repair, wiring design & installation, and electrical upgrades.
With Crossland Management & Electric, your industrial business will have access to a full line of expert services from our industrial electricians.
With the skill we've gained over the years in industrial electrical services, we are able to complete the jobs we are hired to do in a timely, efficient manner.
Whether it's time for your electrical maintenance, panel upgrade, repairs, or wiring services, you can depend on our highly skilled industrial electricians. Just call to tell us what you need today and we'll set up a free estimate and project assessment.
3 Electrical Repairs For Your Long Island Home You Don't Want To Put Off
It's easy to put things off when our lives are so busy but home safety is an important concern for everyone. Whether you have an older Long Island home or newer, there are certain electrical repairs that just can't wait even though they may seem […]
How Your Commercial Electrical Contractor Can Help Your Queens Restaurant Business
Owning a restaurant in Queens means everything falls on you including hiring a commercial electrical contractor to care for the electrical system of your building. Let's face it, you've little time to think much less breathe when running a […]