The Top Electrician in Lattingtown, NY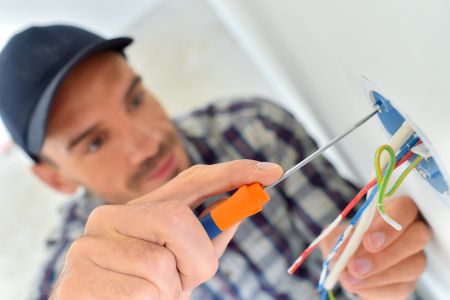 Looking for a Lattingtown electrician who provides great service? Count on our Lattingtown electricians at Crossland Management & Electric to provide you with a full line of services for your home or business. We make it a point to meet our customer's needs with professional workmanship that is done correctly and on time.
Our Lattingtown electricians have many years of commercial, residential, and industrial electrical experience in the local area. We came together and got started as a company in 2011.
Our electricians keep up with the local and national safety code standards for electrical work, and we stick to them for the sake of your safety. All this to say that we work hard, train hard, and are proud to offer you reliable service you can trust in Lattingtown. Your complete satisfaction is our top priority.
Fully Licensed & Insured
Free Estimates
Competitive Rates
Full Range of Services
Top-Quality Work
Residential Electrical & Repairs
Our Lattingtown electricians are available to provide you with a full range of services for your home. You'll get nothing but the best quality workmanship and the best customer experience possible.
If you need electrical repairs, a panel upgrade, an electrical safety inspection, a new generator, generator maintenance, or anything else, call Crossland Management & Electric to schedule service in Lattingtown today.
Generators
Surge Protection
Panel Upgrades
Electrical Repairs
Electrical Safety Inspections
and more
Commercial Electrical & Repairs
Whether you own a mom & pop bakery, own or lease out a retail shopping center, or you manage an apartment building in Lattingtown, our commercial electricians are always available to help you with the electrical service work.
We are competent and skilled to provide you with a full range of commercial electrical service installations, maintenance, and repairs.
Every business is different, so your needs won't be the same as all the others. We understand this so we remain flexible with the maintenance schedules and special needs of our clients.
Outlet Relocation, Repair & Install
Dedicated Circuits For Equipment
Lighting For Displays
Wiring For Appliances
Security Lighting
Emergency Lighting
Decorative Lighting
Complete Electrical Repairs
Electrical Maintenance
Panel Upgrades
Code Compliance Corrections
and more
Industrial Electrical & Repairs
Our industrial electrical contractors have provided service to all types of Lattingtown businesses including those who own or manage warehouses, manufacturing plants, municipal complexes, and industrial processing plants.
These clients have counted on us for everything from the small electrical repair to the complex design and installation of electrical for the entire building. We are proud to have earned the trust of our customers and seek to form long-term relationships with them.
If you haven't found an industrial electrical contractor to be your go-to expert, call us today to set up a free estimate for your project. We do offer 24/7 emergency service if you need them now or can schedule a consultation and estimate if you need service that can wait. We look forward to getting to know you and the needs of your industrial facility.
3 Electrical Repairs For Your Long Island Home You Don't Want To Put Off
It's easy to put things off when our lives are so busy but home safety is an important concern for everyone. Whether you have an older Long Island home or newer, there are certain electrical repairs that just can't wait even though they may seem […]
How Your Commercial Electrical Contractor Can Help Your Queens Restaurant Business
Owning a restaurant in Queens means everything falls on you including hiring a commercial electrical contractor to care for the electrical system of your building. Let's face it, you've little time to think much less breathe when running a […]