The Top Electrician in Oyster Bay, NY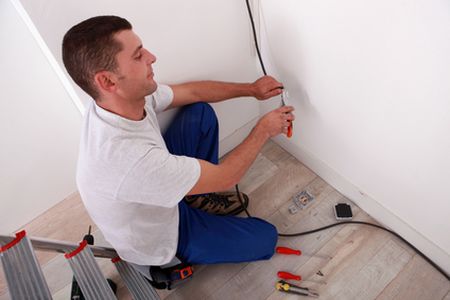 Are you looking for an Oyster Bay electrician today? If so, Crossland Management & Electric is ready and able to meet your service needs.
Finding an electrician in Oyster Bay is like looking for a doctor. You hope to find an experienced electrician but you never know what you'll get until you try them. Our clients have trusted our residential, commercial, and industrial electricians since 2011 and you can too.
When you hire us for service, you'll enjoy a competitive quote and a full line of services. With Crossland Management & Electric, no job is too big or too small. Plus, you can get immediate fast and friendly service from our Oyster Bay electricians as emergencies arise.
Our priority is to always ensure you have a safe and reliable electrical system. If you need an electrician today who is committed to superior quality workmanship and service, call us!
Competitive Priced Estimates
Committed to Superior Quality Workmanship
Full-Service Residential, Commercial, Industrial Electrician
Local Company Serving Oyster Bay Since 2011
Residential Electrical & Repairs
Whether you need repairs for a GFCI outlet, ceiling fan wiring, pool lighting, generator, or anything else, Crossland Management & Electric is the experienced electrician who can provide you with fast and accurate electrical repairs service in Oyster Bay.
Our residential electricians are continually educating themselves on new technologies for homes and can also provide electrical repairs, maintenance, and installation service for a very wide range of electrical systems. This includes modern backup generators, surge protection systems, LED lighting, service panels, wiring, and more.
Do you need to schedule an electrical safety inspection today for your Oyster Bay home? It's good to think about getting one every 5-10 years. No matter what service you need, our residential electricians are here to provide it.
Home Generators
Surge Protection
Panel Upgrades
Electrical Safety Inspections
Electrical Repairs
Lighting
Wiring & Remodel Installations
and more
Commercial Electrical & Repairs
Our Oyster Bay commercial electrical contractors offer you a complete line of services from simple to complex commercial remodels, electrical repairs, generators & installation, wiring, lighting, electrical safety inspections, and so much more.
You will enjoy excellent workmanship and quality parts for your Oyster Bay business. Give us a call today if you are looking for a full-service commercial electrical contractor who has all your needs covered.
Emergency Services Available
Apartments, Restaurants & More
All Work Is Done Up To Code
Industrial Electrical & Repairs
Crossland Management & Electric is your full-service industrial electrical contractor in Oyster Bay. We have been providing our professional electrical services to all types of industrial businesses since 2011.
When you choose our electricians, you can be sure that all the work will be done according to the latest building safety code standards. Our experienced industrial electrical contractors have the skill and the dedication to get your project done right the first time.
3 Electrical Repairs For Your Long Island Home You Don't Want To Put Off
It's easy to put things off when our lives are so busy but home safety is an important concern for everyone. Whether you have an older Long Island home or newer, there are certain electrical repairs that just can't wait even though they may seem […]
How Your Commercial Electrical Contractor Can Help Your Queens Restaurant Business
Owning a restaurant in Queens means everything falls on you including hiring a commercial electrical contractor to care for the electrical system of your building. Let's face it, you've little time to think much less breathe when running a […]