Your Trusted Electrician in Westbury, NY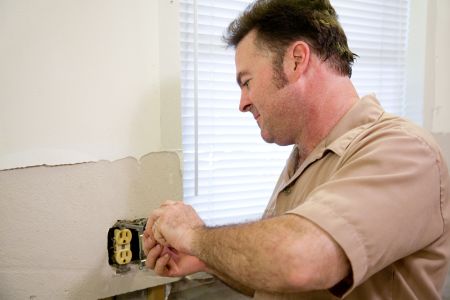 Crossland Management & Electric is your local residential and commercial electrician in Westbury. Our Westbury electricians take pride in providing quality electrical services to help you maintain the safety and security of your property.
In addition to electrical repairs, you can count on our expert services for supplying and installing home generators, surge protection, landscape lighting, wiring, panel upgrades, and more. We stay on top of new technologies so we can provide electrical services for a wide range of systems in your home, business, or industrial facility.
At Crossland Management & Electric, you can always count on our electricians to provide you with top-notch service. We have the skill and the desire to get the job done right. Contact us today if you need our electrical services in Westbury or the surrounding areas.
Residential Electrical & Repairs
One of the most important services you can get for your Westbury home is an electrical inspection. The inspection will uncover problems before they can cause a dangerous situation in your home. If you're already in need of electrical repairs or it's time to schedule an electrical inspection, call our Westbury electricians today.
When we work on your electrical system, our electricians do all the work up to current safety code standards. We make sure you can enjoy a reliable electrical system to support your lifestyle. Did you know that faulty wiring is the number one cause of house fires? Be proactive about those loose outlets or issues with the lights and schedule electrical repairs or an inspection today.
Commercial Electrical & Repairs
One of the projects we help our commercial clients with is installing new lighting in their retail store. Display lighting can make or break a day's worth of sales on the products you want to move.
If you need to upgrade or install lights for your retail business, there are many different styles and types of lighting you can choose to improve the aesthetics and security of your business. Our electrical contractor will work closely with you to choose and install appropriate lighting for your display areas.
We also, of course, install security lighting, emergency lighting, and accent lighting as well as provide full electrical service and repair to all types of businesses. Our commercial electrical contractors can also help you to improve the energy efficiency of your building with energy-efficient LED lighting retrofits.
Industrial Electrical & Repairs
Our staff includes highly qualified industrial electrical contractors. We've done industrial electrical repairs and wiring installations of all kinds in Westbury. Our industrial electrical contractors make sure your job is done according to the latest code regulations and that you have everything you need to operate your business without worrying over power problems or safety.
If you've been wanting to change out the overhead lighting, install additional lighting, or you need anything else for your industrial building's electrical, give us a call to inquire about service. We always have a qualified electrical contractor on standby to meet your emergency service needs.
Emergency Services
Wiring Installations
Code Compliance Corrections
Panel Upgrades
New Electrical Design & Install
Service Changes
Intercom Systems & Generators
and more
3 Electrical Repairs For Your Long Island Home You Don't Want To Put Off
It's easy to put things off when our lives are so busy but home safety is an important concern for everyone. Whether you have an older Long Island home or newer, there are certain electrical repairs that just can't wait even though they may seem […]
How Your Commercial Electrical Contractor Can Help Your Queens Restaurant Business
Owning a restaurant in Queens means everything falls on you including hiring a commercial electrical contractor to care for the electrical system of your building. Let's face it, you've little time to think much less breathe when running a […]